Built to Spec's Machine Room-Less Elevator Packages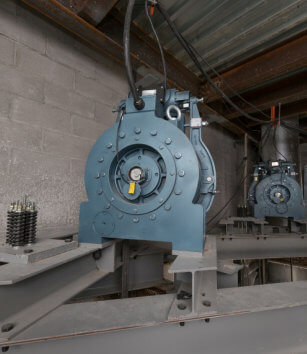 The Space-Efficient and Economical Solution
Machine Room-Less (MRL) elevators are a cost-effective solution for low- to mid-rise buildings with up to 250 feet of rise that have no space available for a machine room. An MRL requires only a tiny control room to be located at the top or bottom elevator level-next to the hoistway-and maximizes the number of vertical elevator stops available by minimizing the amount of overhead hoistway space necessary and providing elevator roof access without the addition of a bulkhead. MRLs are very economical because they require less power than traditional geared traction equipment.
Benefits of BTS's MRL Elevator Packages
Saves Space: Does not require a traditional machine room
Moves Quickly: Faster than typical Hydro's; maximum MRL speed is 500 fpm
Saves Energy: Less power consumed compared to other elevator systems
Costs Less: A less expensive alternative to traditional geared traction systems, the MRL saves you money on equipment and construction.
Entrance/Exit Options: Available with front-only or front-and-side elevator openings
Complete: Like all of BTS's elevator systems, the MRL elevator packages are all-inclusive, ready-to-install elevator-in-a-box systems built to your specifications-we handle all of the related project management and logistics, freeing up your time for other essential building project tasks.
The 5-Step BTS Elevator Manufacturing and Delivery Process
The Turnkey MRL Elevator Solution that Saves Time & Money
Years of experience in the elevator manufacturing industry have taught us the importance of helping elevator contractors save time and money. That's why we've streamlined the process of obtaining an elevator system by providing you with project management and elevator manufacturing in a single-source, turnkey elevator package:
Specifications Review: We understand the importance of interaction with our customers in allowing us to provide outstanding customer service, from timely estimates through the delivery of an elevator package engineered to your building's specifications. As such, your BTS project manager will consult with your project architect, developer or consultant to obtain site architecturals and other supporting documentation that will allow our engineering department to understand thoroughly the elevator requirements of your property. Information supplied to us should include details such as the number of stops required, capacity, travel distance, shaft dimensions, handicap requirements, signal fixtures, entrance wall depths, and your preference of cab design finishes.
Proposal Submission and Approval: We'll prepare a detailed elevator package proposal including pricing for all included equipment and services and present it to the contractor, allowing you to formulate your final bid for the project by simply adding your labor costs. The elevator contractor will review our proposal, and once approved, sign a simple, one-page contract that will allow us to proceed according to contract terms.
Drawing Submission and Approval: BTS will promptly prepare a complete set of engineered elevator plan layouts and shop drawings, which will include details such as entrances, cabs, and fixtures. We'll assign to you a project manager who will work with you to amend the drawings until the revised and resubmitted schematics meet with your approval. Your project manager will guide you throughout the elevator package selection, ordering, engineering, fabrication and delivery process.
Manufacturing: BTS will promptly begin elevator assembly.
Shipping, Delivery and Support: Your assigned project manager will plan elevator package delivery logistics and contact you within one week of drawing approval to schedule a date on which your thoroughly engineered turnkey elevator package will be delivered to your job site. While most of the elevator controllers used in our elevator packages contain detailed start-up instructions, we understand that there may be times when additional support will be helpful. Our contract offers you technical support on initial elevator start-up as well as support for elevator tune-ups and adjustments. As the elevator manufacturer, BTS will provide you with all the documentation you need about your new elevator package, including a complete set of close-out booklets covering topics such as maintenance procedures, warranties, technical advisories, elevator layouts, and individual-equipment shop drawings.
Designed for Hassle-Free Installation and Servicing
BTS MRL Elevator packages are designed with the installer in mind. We know you depend on us to deliver your elevator system on time, as ordered, and ready to be installed. We haven't succeeded in our job until your elevator system is operating and meets with your satisfaction. That's why we've refined the logistics of our process to ensure that your elevator system is accurately labeled, carefully packaged and crated, and shipped directly to your job site for on-time delivery. We make it as easy as possible for your installer to have your elevator up-and-running promptly by including plug-and-play harness wiring as well as pre-drilled machine beams and mounting provisions in each of our elevator packages. And, we make it easy to keep everything handy during installation by including a built-in kick plate around the perimeter of our elevator car tops to help prevent parts and debris from being accidentally kicked off the top of the cars by your installer. Also, our MRL elevator packages include non-proprietary machines, controllers and door equipment, which makes it easy for you to get service and support through a vendor long after installation is complete. We've earned our reputation as the preferred elevator manufacturer for complete MRL elevator systems by making sure the entire elevator sourcing process is fast and hassle-free for you!
The MRL Elevator Manufacturer that Saves You Money!
Questions? Submit Your Drawings
We want to meet you and learn how we can become your comprehensive, non-proprietary elevator package manufacturing company. To receive a swift materials estimate for the single or multiple elevator devices you need, please email us the following documents: specifications, architectural or structural drawings, and elevator profiles.
Contact Us